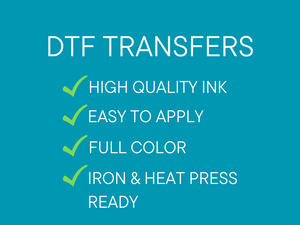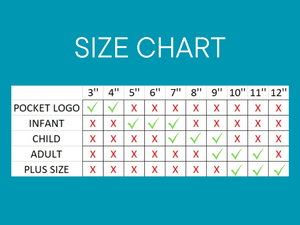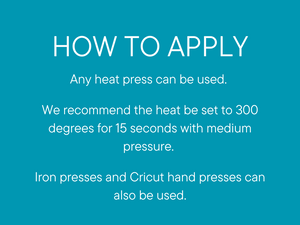 HOW TO ORDER 
1. Measure your garment to determine the best size for your design (PLEASE SEE OUR SIZE CHART)
2. Choose a design size based on the largest point of design, either height or width
3. Complete your order
3. Email order confirmation # & art file or art file link to Talia@2troubleboys.com (DropBox is preferred)
4. You will receive an email confirmation from us and your order will ship
5. You will receive a shipping confirmation with your tracking number
Product Details
ART FILES

Art files should be at least 300 dpi. Preferred file type: PNG and AI.
HEAT PRESS REQUIREMENTS
Any heat press can be used. Please see our infographic for instructions.
HIGH-QUALITY TRANSFERS
Our transfers are tested for quality and are long-lasting. The ink from our transfers will never run or fade on the garment.
SHIPPING
All orders ship within 2 business days. Orders over $35 will automatically qualify for Free Shipping. Express shipping options are available.
COLOR
We print in CMYK. If your design is RGB the colors will automatically be converted to CMYK. There may be color differences due to the conversion.
Refunds & Reprints
Contact us within 7 days of order receipt to request for a refund or reprint. We will reprint orders with a print quality or adherence issue. We do not offer refunds or reprints due to low-quality files.