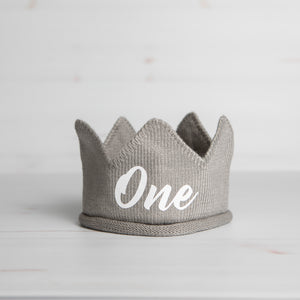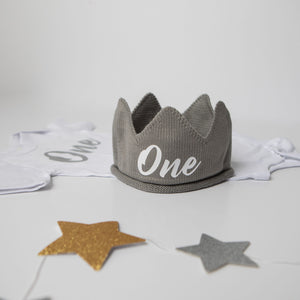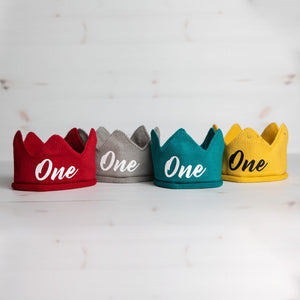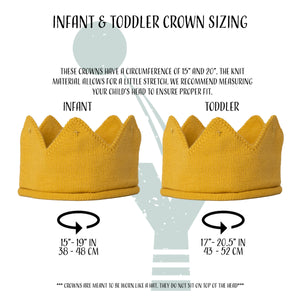 The perfect way to top off your wild one's birthday. This super soft crown will be comfortable enough for your little one to play in all day long! We also offer different styles.
You may choose: Plain (just the crown itself with no writing) "One" or "Custom Name" Where you can choose to add your little one's name to the crown.
We also offer a Pink crown with gold glitter writing in a separate listing. 
We recommend measuring your child's head to ensure proper fit. *Please keep in mind that the crown is a knit fabric and will stretch. We recommend these for children with a head circumference of 15"-19" 
Adorable boy first birthday crown! Can't wait for my little love to wear this. Thank you! Excellent quality!
Really cute! Tried on on and he wasn't bothered by it which is a rarity! Can't wait to take pictures of him wearing it next month for his birthday. Quality is awesome- would buy from shop again!
I got the gold crown - plain, with no lettering added - and it was absolutely perfect for my son's "Wild One" themed 1st birthday pics. It looks like a really nice thick sweater material… Excellent quality! Will definitely be using this for his birthday for as many years as he will allow me to put it on him! Thank you!
Loved all of it ! The materiel was super soft love the crown shape. Perfect fit for our prince
Great experience! The seller was quick to confirm my order. And product was delivered much faster than expected. They are going to look so cute for their first birthday!!! The material is very soft. And I think they may keep them on most of the day.