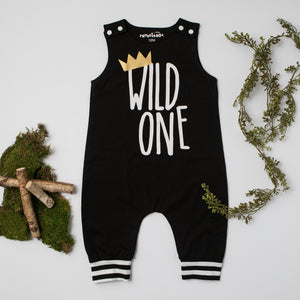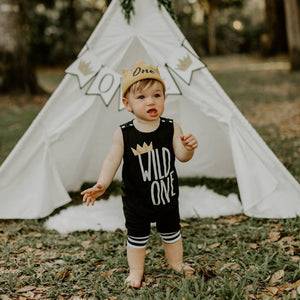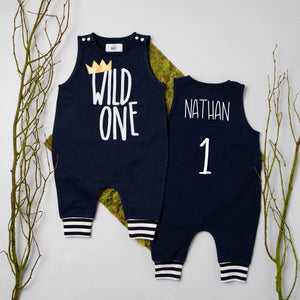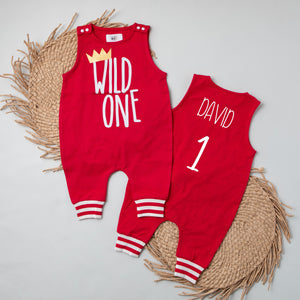 Wild One 1st birthday Romper! This adorable sleeveless 3/4 length romper is the perfect addition to your wild one's first birthday!

* Available in 6-month, 9-month, 12-month, 18-month and 24-month sizes.
* Your choice of Black Romper with black and white cuffs that hit just beneath the knee
* Snaps at each shoulder for easy on and off. Please note there are no snaps at the leg, to change a diaper the romper will need to be unsnapped at the shoulder.

We have many coordinating pieces including parent shirts, matching crowns, monster claw slippers, and matching sibling tees. These can all be found in our shop under our "wild one birthday" section.
This romper was so cute for my son's birthday!
We absolutely love this romper!! We purchased the "one" crown as well and it was perfect. This seller shipped so quickly and it arrived just in time for my son's first birthday. His pictures are so adorable. The fit was spot on and the quality is great. We will keep this item as a keepsake.
Such good quality and made out babies birthday so cute!
Love this! So cute for my little guys 1 year photos and his bday party
We loved the adorable "wild one" and it was extra special for his first birthday with the personalized option. They deliver it right away and even write a sweet happy birthday note to our son. We will be buying more from this awesome shop! Thank you for all your help!